Create a show on iPhone/iPad
You can create a show on iPad/iPhone with the director's version or on a PC, Mac or Linux browser.
Do I need to create a show?
You can search for shows that have already been created by Tapping the ... button and search for show. The best way to keep everyone on the same page is for a single person to be responsible for keeping the show up to date. All others that are watching that show and will automatically updated with changes.
1) Select Create New Show
Tap the ... button and select Create New Show.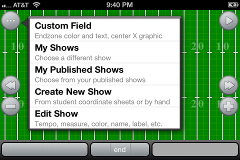 2) Enter show information
Fill in the information for the show. Make sure you choose which hashes are used by the coordinates, high school or college. Click create to continue.